Statistics Tutoring Service in Singapore
Do you have difficulty in understanding statistics class or you plan to further improve your statistics knowledge? And you looking for statistics tutoring class in Singapore?
I am a statistics mentor in Singapore who specialize in undergraduate & postgraduate social science statistics. I offer professional statistics tutoring and research consulting to thesis for undergraduate and postgraduate students.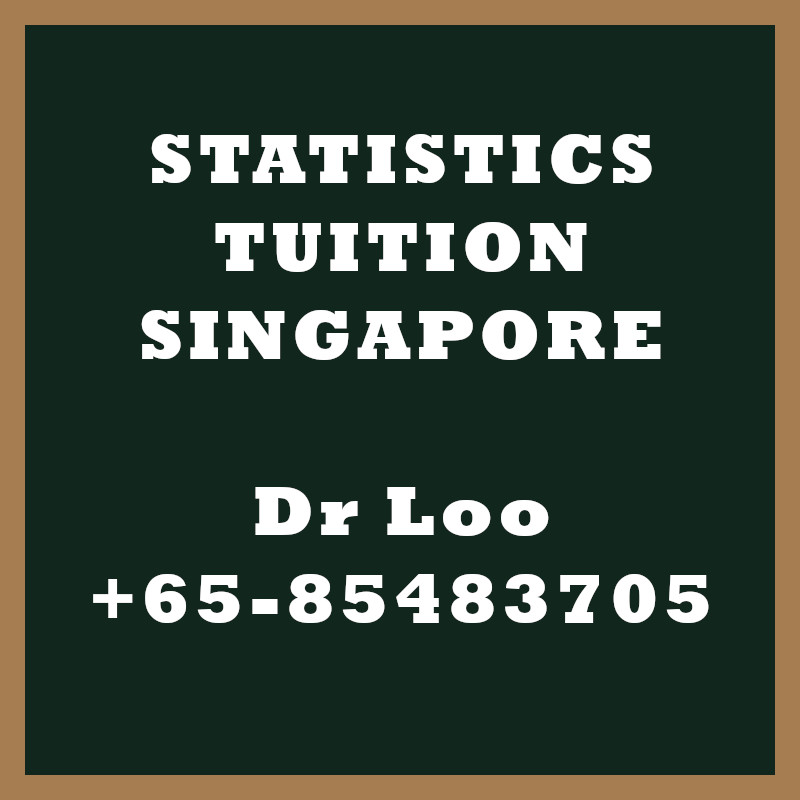 Scope of my Statistics Tuition in Singapore
1. Pre-University Level Statistics Tuition
Diploma Statistics Tuition (Singapore)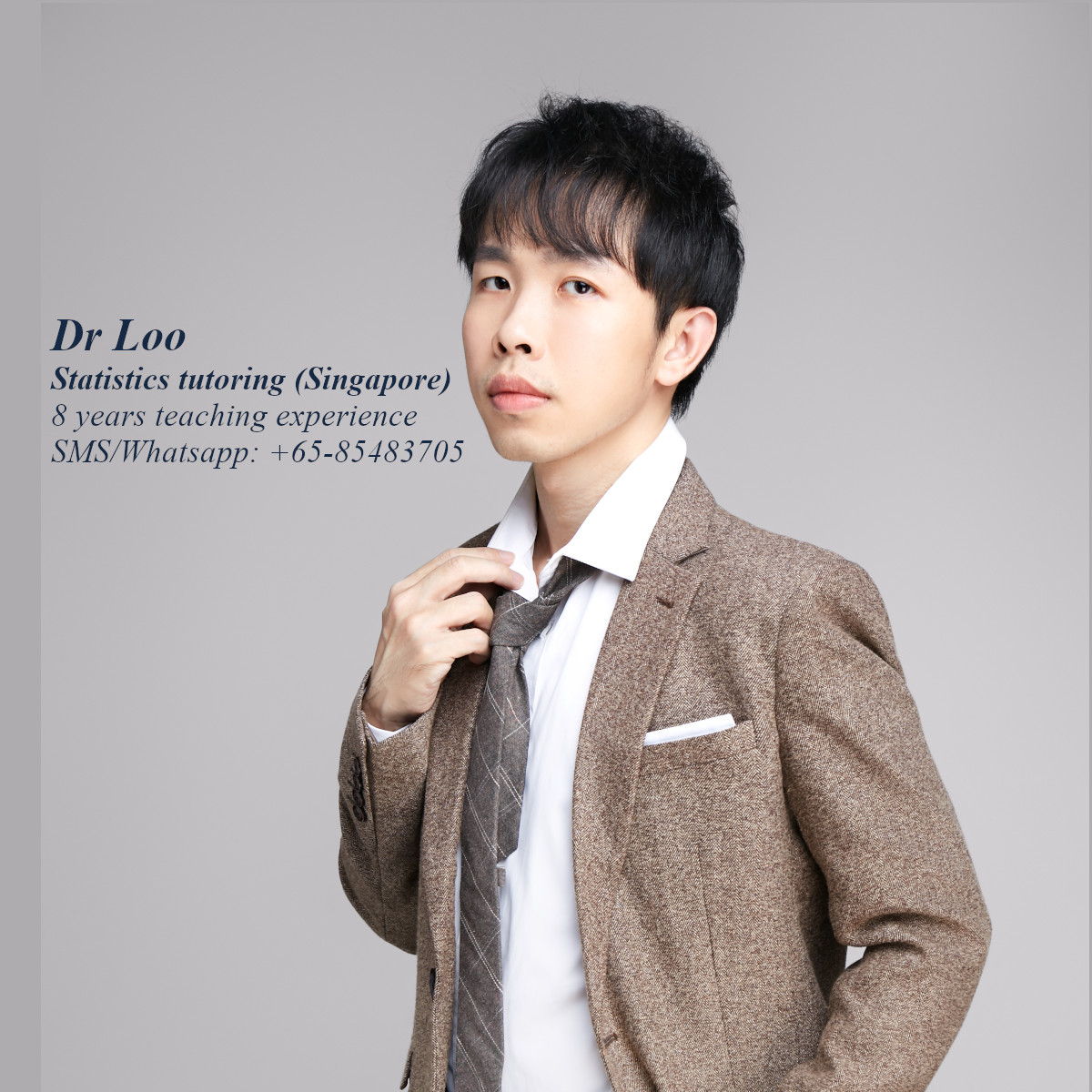 Statistics Tutor in Singapore
Hello! My name is Dr Loo, a PhD holder. Currently I am a full time statistics tutor in Singapore. I have 8 years of mathematics and statistics teaching experience in college and university together with publication in international peer reviewed journal. In addition, I also have about 3 years of experience between a mathematics and statistics advisor in a university.
In addition, I also provide secondary O-level math tuition & JC H2 math tuition. You may contact me if you are looking for E-math tutor or A-math tutor (for secondary students) which H1 math tutor or H2 math tutor (for A-level students).
 Contact me for Statistics Tuition
Anyone who interested to have statistics lesson in Singapore with me please send in your query (name, subject, area) by sms/whatapps to +65-85483705 (Dr. Loo) to appointment for phone discussion. You may also look for me if you are looking for psychology statistics tutor in Singapore or business statistics tutor in Singapore Thanks.
My Statistics Teaching Experience
Dealing with students from variety of backgrounds regardless whether they are struggling in learning statistics, or already and statistics elite, in which to help them to further improve their statistics skills – as mathematics & statistics advisor in university.
Teaching mathematics & statistics related module in university for degree & diploma level as lecturer & assistant professor.
Providing professional advice to research students (including PhD candidate) & lecturers in improving their quantitative literacy on statistics to produce a better research data analysis.
Teaching secondary & pre-university math & statistics as teacher & private tutor.
Conducting research on quantitative data analysis (statistics, econometrics, machine learning) with successful publication records on international peer review journals.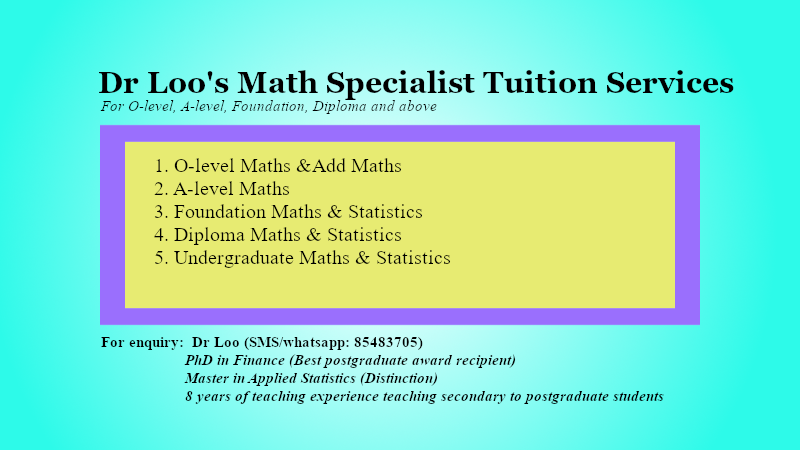 Statistics module that I can cover
These are the statistics module I have taught previously.
Descriptive Statistics
t-test
Correlation
ANOVA
ANCOVA
Mixed ANOVA
Factorial ANOVA
MANOVA
MANCOVA
Mixed MANCOVA
Regression
Factor Analysis
Moderation
Mediation
Structural Equation Modeling
SPSS Statistics
Others (Please contact me for more information)
My Statistics Tuition's Structure
Mode of Statistics Tuition
One-to-one Statistics Tuition
One-to-one Statistics Home tuition
One-to-one Statistics Online Tuition
Small Group Statistics Tuition
Online Statistics Group Tuition
Area of Tuition Coverage
Any places in Singapore
Online Tutoring
Tuition Fee
Please contact me to discuss about the statistics tuition cost.
Contact the Statistics tutor
If you are interested to have statistics tuition with me, feel free to contact me via SMS/Whatsapp/Telegram at +65-85483705 to arrange for a phone discussion. Please include your name, subject, and area of stay in Singapore (for home tutoring) as well.
Other than statistics tuition, I do also provide mathematics tuition in Singapore. For instance, I am currently focus in providing math lessons in Singapore ranging from secondary school math tuition class until Singapore A-level mathematics. This includes Singapore O-level math tuition as well as JC H2 math tuition.

My Research Publications
Econometrics Analysis
Loo, W.K., Melati, A, and Suresh, R. (2015). The Dynamic Linkage Among The Asian Reits Market, Pacific Rim Property Research Journal, Vol. 21, No. 2, pp. 115 – 126. (Scopus-Cited)
Loo, W.K., Melati, A, and Suresh, R. (2016). Integration between the Asian REIT markets and macroeconomic variables. Journal of Property Investment and Finance, Vol. 43, No. 1, pp. 68 – 82. (Scopus-Cited)
Loo, W.K., Melati, A, and Suresh, R. (2016). Modeling the volatility of Asian REIT markets. Pacific Rim Property Research Journal, pp. 1 – 13. (Scopus-Cited)
Machine Learning (Neural Network, Random Forest, Extreme Gradient Boosting)
Loo, W.K. (2019), "Predictability of HK-REITs returns using artificial neural network", Journal of Property Investment & Finance, Vol. ahead-of-print No. ahead-of-print.

 

https://doi.org/10.1108/JPIF-07-2019-0090

Loo, W.K. (2020), " Performing technical analysis to predict Japan REITs' movement through ensemble learning", Journal of Property Investment & Finance, Vol. ahead-of-print No. ahead-of-print.
Testimonial from students