Principle of Investment Tutor in Singapore
Hello! My name is Dr Loo, a PhD holder. Currently I am a full time Principle of Investment private tutor in Singapore. I have 8 years of mathematics and statistics teaching experience in college and university together with publication in international peer reviewed journal. In addition, I also have about 3 years of experience between a mathematics and statistics advisor in a university.
Other than teaching Principle of Investment, I am also a math tutor in Singapore for other math related subjects. For example, I am also a JC math tutor (H1 math tutor & H2 math tutor) and also O-level math tutor. Besides, I am also a statistics tutor in Singapore.
Contact me for Principle of Investment Tuition
Anyone who interested to have Principle of Investment tuition in Singapore with me please send in your query (name, subject, area) by SMS/Whatapps to +65-85483705 (Dr. Loo) to appointment for phone discussion. Thanks.
Principle of Investment Tuition in Singapore
Do you have difficulty in understanding Principle of Investment class? I do provide Principle of Investment tuition.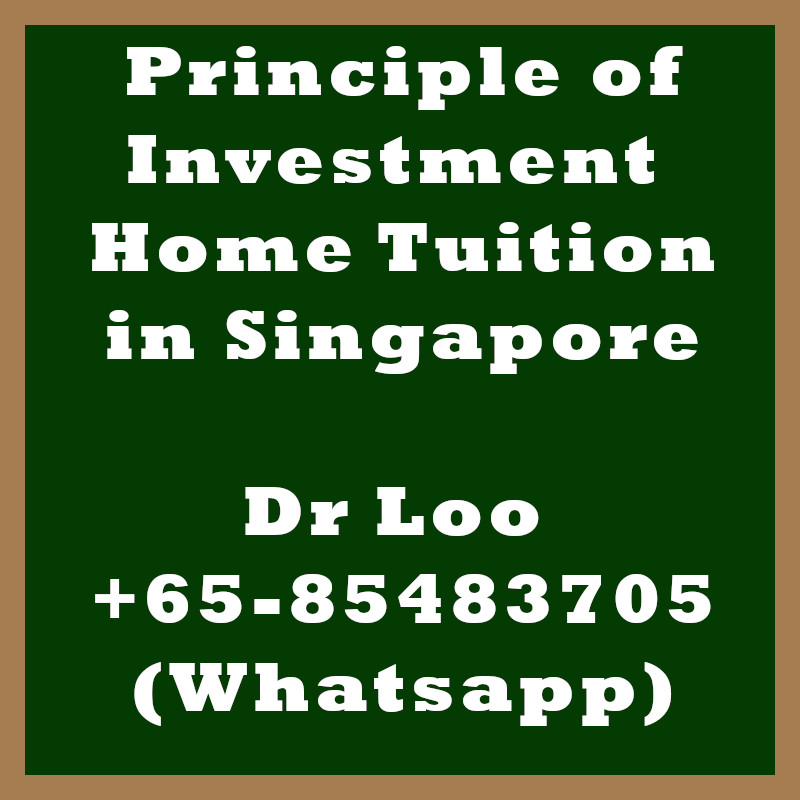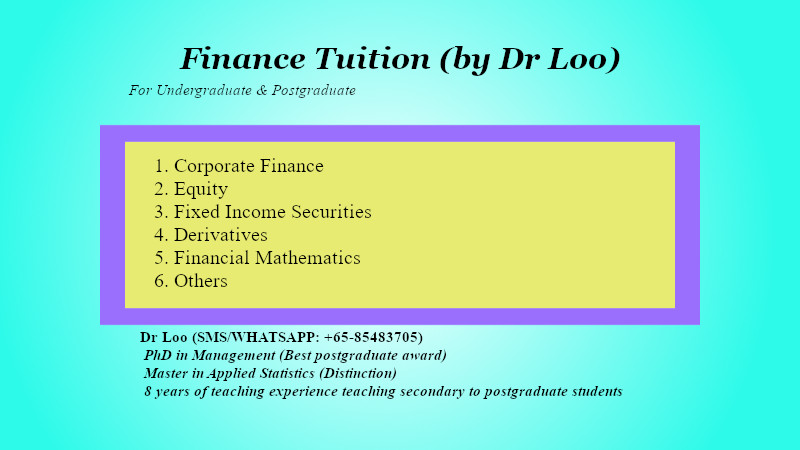 Principle of Investment module that I can cover
For Principle of Investment, this subject will normally covered the theory and application of investment principles. This can involves topics such as Risk and Return, Diversification, Technical Analysis, Financial Statement Analysis, Capital Assets Pricing Model, Efficient Markets Hypothesis etc. By learning these topics, students should be able to acquire the knowledge on aspects such as select assets, manage risk and construct optimal portfolios. Sometimes it also can involve statistical analysis of stock market data.
With my past teaching experience, I can teach most of the Principle of Investment modules. Below are some of the Principle of Investment topics I can tutor.
Risk and Return
Capital Assets Pricing Model
Efficient Markets Hypothesis
Financial Statement Analysis
Diversification
Technical Analysis
Others
Principle of Investment Lesson Structure
Students Level I can cover
Diploma students
Undergraduate students
Fee
Please contact me to discuss about the tuition cost.
Online Principle of Investment Tuition in Singapore
For those who prefer to have online tuition, I am also available to provide the Principle of Investment tuition through zoom or team.